Intro to SkillCAD
The SkillCAD IC Layout Automation Suite is a collection of over 120 commands to help improve productivity for Cadence Virtuoso Layout designers. The tools integrate into the Virtuoso Layout Suite, so the designer never has to leave the Virtuoso environment. SkillCAD has been a Cadence Connection Partner since 2009.

The SkillCAD tools have access to Virtuoso technology files and know the available design rules, enabling design aware commands. These commands simplify complex routing and object creation, even over existing devices and/or routes.

Available from SkillCAD is:
IC Layout Automation Suite (LAS)
Please note: SkillCAD tools work within the Virtuoso environment, SkillCAD licences do not include licences for Cadence Virtuoso which must be obtained separately (available through EUROPRACTICE).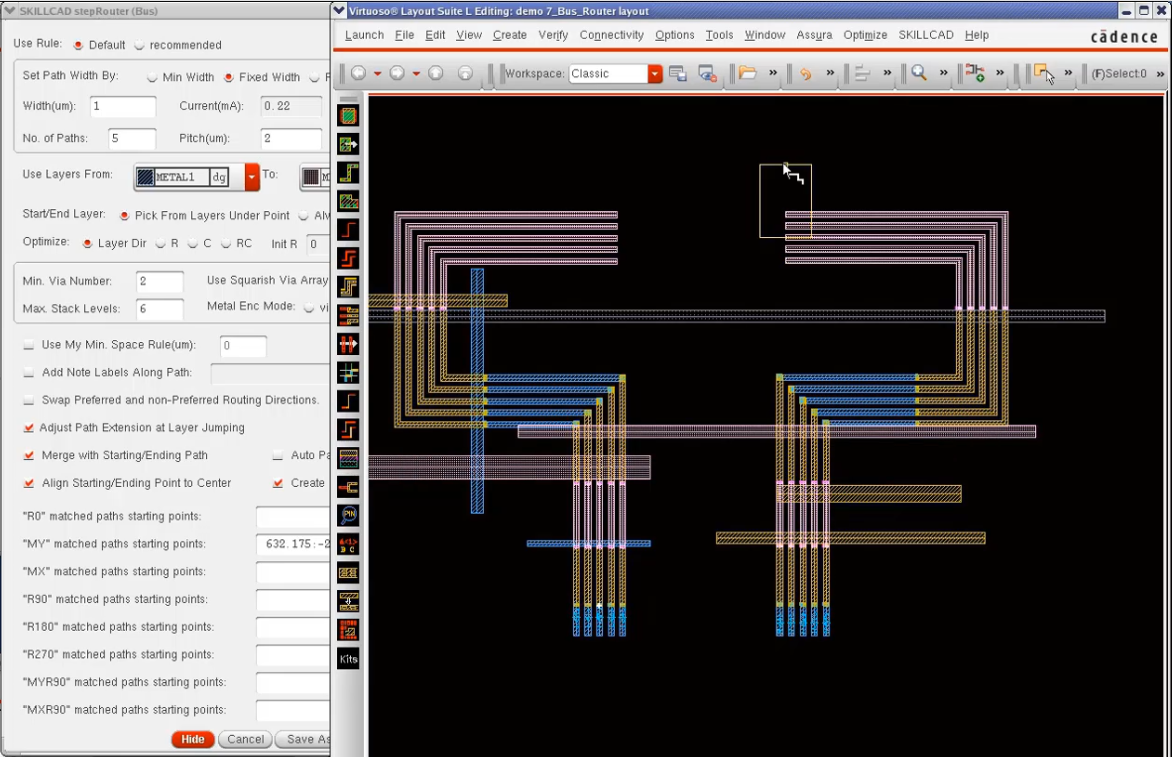 Example figure shows a matched bus being routed. The two buses cross different existing routes, however the design aware tool takes this into account to create buses that exactly match.
---
Summary of Tools
SkillCAD has a collection of over 120 user-guided and auto routing commands. The tools cover a range of useful functions and can reduce complex routing into a few simple steps. Some of the most used modules are highlighted below:
V-editor: Collection of functions to edit existing routing in a design. Vector-editor (v-editor) uses a drawn line (vector) to select and bring circuit elements, element order, and magnitude information into the commands. This speeds up inputting data into the commands.
stepRouter: User guided single Path and Bus router; context aware to simplify routing over existing routes.
segJumper: Interactive router tool to create standard or complex buses quickly. Control layer changes, vias, connection re-ordering from one tool.
shieldBus: Creates shielded routing as easily as regular buses.
There are many more commands, and further details on the SkillCAD website.
---
Supported Design Tools and Foundaries
SkillCAD is compatible with Virtuoso Layout Suite IC6. For Cadence Virtuoso Layout L, XL, and GXL tools.

SkillCAD currently supports a range of technologies including TSMC, UMC, X FAB, Global Foundries, and others.